t
i
&
r
The Dibley Design Advantage
October 2006 Topic:
Press Release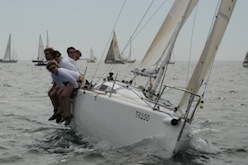 Supergroove
was purchased in June, 2006 by
Jonathan & Verity Cunliffe
from Falmouth, England, and shipped to it's new owners just in time for
Falmouth Week
which provided a good learning curve for SG's new owners. Both Jonathan and Verity are experienced sailors having raced everything from
J24s
to Superyachts in all corners of the globe.

Read More...
March 2005 Topic:
Press Release
Sailing in tricky, light conditions, '
Supergroove
' took out the double in the 100 Mile Gulf Classic run by the Waikato Yacht Squadron' held on March 12 & 13th. Sailing on a course that covers the Harauki Gulf, Graham Rowe and crew crossed the line almost two hours ahead of the next yacht which resulted in winning both Line and Handicap honours.


Supergroove
has done this race 6 times with 5 Line Honour wins but this is the first Double she has achieved.

Designed in 1993 for Jono Gravit, '
Supergroove
' went on to win four New Zealand Trailer Yacht Championships along with a host of other events. Her new owner, Graham Rowe, has continued the success and is keeping the 12 year old design competitive with the addition of a new 2 metre prod that Dibley designed for her earlier this year.

According to Graham,
"We were using our largest gennaker, normally flown on a pole, but having its effort further for- ward meant that we carried it in heavier air than we would have on the pole and we were well under control all the time."


READ MORE
March 2005 Press Release
April 2005 Topic:
Press Release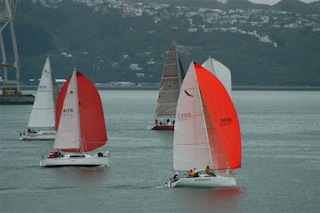 Just weeks after winning the 100-mile
Gulf Classic
on Line and Handicap, the 12-year old
Supergroove
took out the
New Zealand Trailer Yacht Championships
, once again with overall Line Honours. Racing in her 6th
Trailer Yacht Nationals
since launching,
Supergroove
has now won the event 4 times with two second places in 1997 and 2000. The 2005 event consisted of eight windward / leeward races and one long harbour race with no drops for the Series. According to owner / skipper,
Graham Rowe
,

"We scored five firsts, a second, two thirds, and a sixth. Weather conditions ranged from 30 knots on the first day, up to 15 knots on the subsequent two days. A first, the two thirds and the sixth came with the heavier air and awful chop".

In the better conditions,
Supergroove
lived up to her name. She was first around every mark on the final day of three races and the crew work just got better and better. But as
Graham Rowe
comments:


"In races that were about 3.6 miles in length, we could not generate the 6 minute lead we needed to get the edge over the Ross 780's on handicap".


Again, well done to Graham and his crew of Colleen Slagter (3 days) / Mark Ansell (one day) on mainsheet, Andy McCallum on foresail, Pedro Morgan on keyboards / trim and Stuart Park on bow.

Note:
Supergroove
is currently on the market, so let us know if you have an interest. Full
spec sheets
available on request.
Contact Dibley Marine
for more information
Read More...