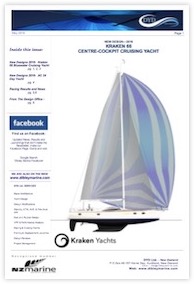 As mentioned in our last newsletter, a new company,
Kraken Yachts Ltd
.
led by
Dick Beaumont
and
Roger Goldsmith
of Hong Kong, had commissioned us to design their bluewater cruising fleet which comprised the
K50
,
K58
and the
K66
. Both Dick and Roger have thousands of sea miles behind them and they knew what they wanted. This made the designing quite easy and enjoyable as the process and detailing was shared between both parties.

The largest in the fleet is the
Kraken 66
which was designed as a true
performance bluewater cruising yacht
. She had to have enough volume and displacement to cater for comfortable long term cruising and storage. She also had to be stiff with a high angle of vanishing stability (AVS) and have a good turn of speed which is a requirement for today's yachtsperson.

During the preliminary discussions we all sat down and worked out the most important factors that make up a true bluewater cruising yacht. These were simplified down to
safety, comfort and performance
and it was a requirement in the brief that no compromises be made on any of these three points.

The yacht had to be handled by one from the cockpit, but also be ergonomically efficient with a crew, so the deck plan was well thought out in a sailing and anchoring/berthing point of view. Details on life-raft storage, ventilation, anchoring and aft boarding platforms have all been catered to. Customised helm pedestals allow full use of instrumentation all within reach of
the helm.

The Sail Plan is easily controlled from the cockpit. The furling boom allows effortless reefing and the cutter rig allows plenty of sail set options. Swept Spreaders and a clean deck follows the mantra of 'keeping is simple' with all halyards and control lines leading aft under the deck and out of sight.
READ MORE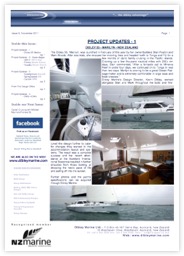 The
Dibley 55
,
'
Marilyn
'
, was launched in February of this year by her owner/builders Stan Peyton and Mark Woods. After sea-trials, she dropped her mooring lines and headed north to Tonga and Fiji for a few months of idyllic family cruising in the Pacific Islands. Clocking up a few thousand nautical miles with 250+ nm days, Stan commented,

"
After a fantastic sail to Minerva Reef in under four days, we continued on to Tonga in less than two days. Marilyn is proving to be a great Ocean Passage-maker and is extremely comfortable in large seas and fresh breezes."
Dibley Marine
's Design Director,
Kevin Dibley
, worked alongside Stan and Mark throughout the build and fine-tuned the design further to cater for changes they wanted in the accommodation layout and systems. The result was a complete success and her recent attendance at the
Auckland International Boatshow
resulted in further enquiries from those looking at dropping the hectic pace of life and sailing off into the sunset. Further photos and the yachts specifications can be acquired from
Dibley Marine
.

READ MORE