Commander 110' Performance Cruising Yacht
Client:
Commander Yachts Ltd


The design philosophy for
Commander Yachts
is to design and produce high performance luxuriously appointed yachts that will turn heads wherever they sail and will always be on the cutting edge of specification and technology. Performance can be difficult to quantify, as it is the sum total of the components that create the overall speed, sea keeping ability, safety ... However, let's consider each of these components separately.

Hull Shape:


The first area 'Dibley Yacht Designers' focus upon is hull shape. Through their work alongside Laurie Davidson on a wide range of high performance racing yachts around the globe, they have established the areas to concentrate upon in the quest for optimum performance without sacrificing the ease of sailing and sea keeping abilities that winning designs require.




The volume distribution of the hull is the key factor when combined correctly with various coefficients and center of buoyancy positioning. Davidson has used this technique for many years, from winning America's Cup yachts to racing and performance cruising yachts. It is a complicated combination of variable inputs that must match the performance criteria required. Although offshore cruising yachts have different ratios and required specifications from high performance racing yachts; to be successful, a Designer needs to establish the performance criteria required. Offshore Cruising Yachts, for instance, require special attention to load carrying capacity. If calculated correctly, this does not require a great sacrifice in performance for a given displacement. In the case of racing yachts, load carrying capacity becomes a minor issue and most of the attention is directed into the performance area, with the sacrifice being cruising comfort.

Dibley, with Commander Yachts, design High Performance Cruising Yachts. They acknowledge the issues involving comfort, ease of sailing and Clients requirements and then they wrap a high performance hull package, rig and systems around these inputs to maximise performance.
To do this correctly, they need to concentrate on a few important factors.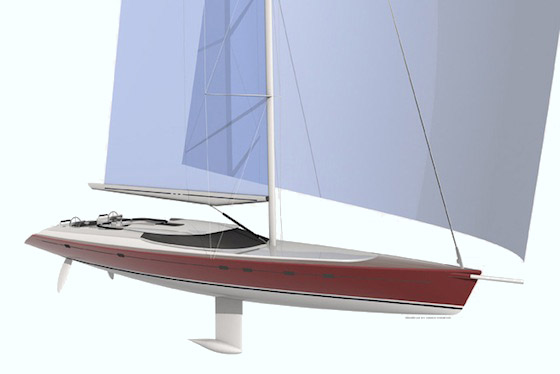 Appendages:


The keel and rudders are the next area to look at. In the quest for high performance, we need a low center of gravity and to achieve this, we need draft. Of course, for ideal cruising ability and entry into some marinas around the popular racing areas, there will be a draft restriction. This does not help performance, as the center of gravity will rise accordingly. To counter this performance handicap, Commander employ a lift keel arrangement that offers full draft capability when racing, but can be lifted easily and effortlessly for entry into marinas and bays that would normally preclude the fixed keeled racing yachts with high draft. The system used utilizes a straightforward hydraulic ram that lifts the keel effortlessly up the centrecase. To protect sightlines and aesthetics within the interior, the keel will only lift as far as required for marina/bay access. The centrecase catering for this lift will be minimized in height and intrusion, since clearly there is little point in lifting the bulb above the rudders.

Other options in the Commander Range include Fixed Keel where there are no draught restrictions and Canting Keel for ultimate performance. But initially, they look to the lift keel option to establish parameters.

Commander employs the twin rudder configuration for most of their designs, the advantage being that twin rudders make sense with lift keel arrangements. When the keel is set in 'race mode depth', a deep centerline rudder works well. However the keel can only be raised as far as the rudder depth permits which in many instances does not offer sufficient advantage when sailing into shallow draught areas. With twin rudder arrangements, we can reduce the rudder draft and hence the lifting keel draught by half. When sailing, the leeward rudder will always be in its most efficient, non-stallable position whilst the windward blade will be creating very little or no drag.

Twin rudders allow greatly improved utilisation of the aft lazerette. The twin rudderstocks permit centreline stowage for the inflatable, which leads to faster and easier launch and recovery times.


Rigs:


The third area that is looked to with regard to performance is the rig. Working closely alongside their rig designer, Chris Mitchell, they work through the issues of drag, weight and strength to come up with the optimum edge. The latest development being factored into their yachts are carbon stays, which both reduces weight aloft and improves directional load bearing.

The Commander Sail plan is powerful for any given displacement. It is their belief that the Skipper can always reef when required, but can never add to what is already 100% capacity. With this in mind, they ensure reefing is as effortless and non stressful as required and they employ both Reefing headsails and Furling Boom to maintain balance and efficiency. In racing mode with full crew, the furling headsail is replaced with full racing headsails that are changed as per usual practice. For fun regattas and in performance cruising mode, the furling systems come into their own. A protruding Prod is extended during reaching and downwind legs to cater for the masthead and fractional gennakers as well as a Code Zero in tightened reaching mode.


Construction:


The fourth area they look to, once performance criteria and initial weight analysis is complete, are the construction options. Working alongside their structural engineers,
High Modulus [NZ] Ltd
.,
Dibley
ensures the latest and most efficient materials are employed to maximize the strength and weight ratios. Carbon Fibre, Kevlar and various E-glasses are used within an Epoxy matrix. All panels are vacuum bagged and all weight saved in the hull construction can be added to the bulb for further performance gains.
High Modulus
have worked closely with
Dibley
's racing and cruising designs and are instrumental in breaking new ground with smart engineering solutions.


Systems:


The heart of Commander lies in their systems and system interface. Hydraulics are seamlessly integrated with electrical systems to provide enormous power to sail handling, keel control and transferable water ballast systems. AC power is preferred to DC for its weight savings and simplification. Commander works closely with
Top Logic Systems Ltd
and
Onboard Systems Ltd
to ensure that hydraulics and electrics remain cutting edge.

In summary,
Commander
combines high performance, ease of handling, safety and luxury with style and structural integrity that will set new standards for years to come.


SPECIFICATIONS AND PRINCIPAL DIMENSIONS

LOA 32.53 m (110'-0")
LWL 28.34 m (93' - 0")
Beam 8.18 m (26'-10")
Draft (up) 3.50 m (11'-6")
Draft (down) 5.00 m (16'-5")
Displacement (1/2 load) 74,7010 kg's (164,680 #'s)
Sail Area/Displacement Ratio 30.8
Displacement/Length Ratio 91.4