t
i
&
r
The Dibley Design Advantage
June 2004 Topic:
Press Release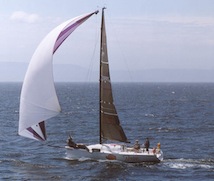 A Summary of the 2003
Melbourne to Hobart
race by
Babe
crew member Andrew Stewart:

"A good start but as always the first 8 miles to the Heads was reaching, so given water-line length (smallest boat in the fleet), we ended up leaving the Heads mid fleet. We headed east for the first 24 hours looking and hoping for an easterly change. Unfortunately the system had slowed a little and the expected ENE came around 12 - 18 hours later than the pre-race info suggested ..."
Read More...