Dibley December 2014 Newsletter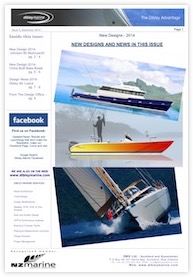 Johnson Yachts
, based out of Pine Harbour Marina in Auckland, New Zealand, are in the process of building an 80-foot launch for a NZ/Canadian couple living in Australia.
Designed in collaboration with NZ yacht designer
Kevin Dibley
, this new project will be marketed as the
Johnson 80 Motoryacht
, Designed as a light displacement-to-length motor launch (LDL), she is designed and built to Australian NSCV LR SSC-2B survey requirements.

The design brief to Dibley was for a vessel that has a sleek and low profile, and a very stable and highly efficient hull form A go anywhere, anytime launch that the couple could use with family and friends both here and abroad. The interior had to allow for good entertainment with a large groups, but also comfortable and private for smaller groups and charter.

LDL, or Light displacement-to-length ratio powerboats are becoming more popular over the past few years due to their efficiency and low power consumption, so Dibley and Johnson studied the concept further and decided this was the best solution to achieve the brief. To do this properly, a low VCG (vertical centre of gravity) had to be implemented to maintain the safety at sea aspect of the design. To help with that stability, the hull will be built in steel and the superstructure in composites. Further to that, all tankage is kept low in the bilges and keel of the hull. Another aspect of the design that was important for the success of this project was for all the major weights, like the engine room and tankage, to be located close to the LCB (longitudinal centre of buoyancy) to reduce pitching in a seaway as well as maintaining constant trim between Full and Lightship loads.

To further add comfort and to prevent roll, a Seakeeper Gyroscope will be placed in the bilges of the hull. It is a computer controlled gyroscope that eliminates most boat roll, including the fatigue, anxiety and seasickness that goes with it. Supplied by Twin Disc, the Seakeeper is a game changer in the overall comfort and enjoyment of boating offshore or coastal The Johnson 80 is powered by twin 740 hp MTU Series 60 engines that produce a very efficient and comfortable 11 knots cruising speeds, but allowing 23 knots when tanks are fully loaded. As the owners will be heading offshore often, this cruising speed is more than required, and yet gladly taken.

READ MORE