Dibley April 2009 Newsletter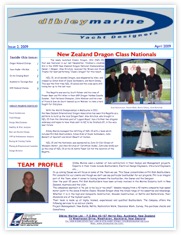 The newly launched
Classic Dragon, 'Alla'
(NZL-15) that was featured in our last Newsletter, finished a credible 3rd in the 2009
New Zealand International Dragon Association
. Owner / Skipper, Alex Kirichuk, received the 'Brown and Stone Trophy' for best performing "
Classic Dragon
" for this result.
NZL-15, an all wooden Dragon, was skippered by Alex, and crewed by Simon Kidd of
Doyle Sailmakers
, and
Kevin Dibley
. This was the first time NZL-15 sailed and the crew were still tuning her up to the last race.
The Regatta was won by Scott Palmer and his crew of Fraser Beer and Phil Allen in their GRP Dragon
'Yankee Doodle Dandee'
. Past National Champion, John Webber and his crew of Frans & Sam de Court teamed up on
'Matuku'
to take a hard fought for 2nd place.
Alex Samorukov, Simon Kidd, Kevin Dibley, Alex Kirichuk.


With the
World Championships
in Melbourne in 2011, the
New Zealand International Dragon Association
has seen this Regatta as a platform to build up the local Dragon fleet. Alex Kirichuk, who brought in NZL-15 from the Ukrainian yard of
'Lagoon Royal'
, has a further two dragons underway and hopes to have them sent to New Zealand to be finished off, in the very near future.


READ MORE