April 2011 Topic:
Dibley Newsletter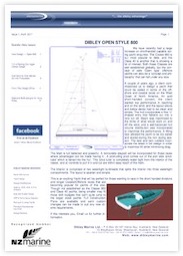 We have recently had a large increase on shorthanded capable racing yacht enquiries. The
Classe 950
is our most popular to date, and the
Class 40
is another that is showing a lot of interest. Both these Classes are well established globally, but the concept of safe 'Open type' offshore yachts can also be a 'concept and philosophy' that can fall under any size.


READ MORE

FEATURES :
Dibley Open 800 Design Racing Outrigger Canoe Design IOM Production
Keel & Bulb Design


February 2007 Topic:
Press Release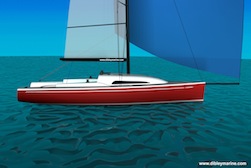 The brief for the
Dibley 33R
was for an exciting
high performance
racing yacht that combined dinghy like performance with
strength and seakindliness
for semi-offshore and coastal races. She also had to fit within a
40-foot container
and be shipped anywhere in the world.


The hull form utilizes a narrow beam waterline with slightly hollow waterlines forward, with our usual u-shaped sections fairing into a flat run aft. The combination is carefully considered to ensure a well-balanced hull form that will perform beautifully upwind and down.


Read More...