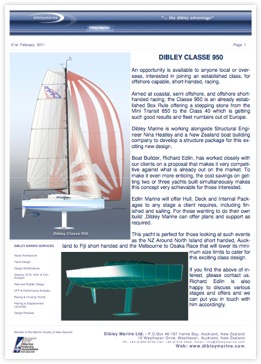 An opportunity is available to anyone local or overseas, interested in joining an established class, for offshore capable, short-handed, racing.


Aimed at coastal, semi offshore, and offshore short- handed racing, the
Classe 950
is an already established Box Rule offering a stepping stone from the
Mini Transat 650
to the
Class 40
which is getting such good results and fleet numbers out of Europe.


Dibley Marine
is working alongside Structural Engineer
Nina Heatley
and a New Zealand boat building company to develop a structure package for this exciting new design.

READ MORE