July 2009 Topic:
Dibley Newsletter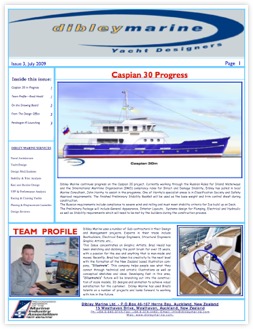 Dibley Marine
continues progress on the Caspian 30 project. Currently working through the Russian Rules for Inland Waterways and the
International Maritime Organisation
(IMO) compliancy rules for Intact and Damage Stability, Dibley has pulled in local Marine Consultant, John Harrhy to assist in the program. One of Harrhy's specialist areas is in Classification Society and Safety Approval requirements. The finished Preliminary Stability Booklet will be used as the base weight and trim control sheet during construction.


The Russian requirements include compliance to severe wind and rolling and must meet stability criteria for Ice build up on Deck. The Preliminary Package will include General Appearance, Interior Layouts, Systems design for Plumping, Electrical and Hydraulic as well as Stability requirements which will need to be met by the builders during the construction process.


READ MORE

FEATURES :
Caspian 30m Progress Update
On The Drawing Board
Pendragon VI Launched !