Dibley September 2012 Newsletter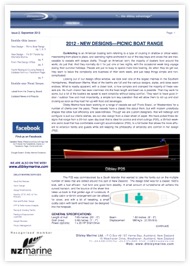 Gunkholing
is an American boating term referring to a type of cruising in shallow or shoal water, meandering from place to place, and spending nights anchored in out of the way bays and coves that are inaccessible to vessels with deeper drafts. Though an American term, the majority of boaters from around the world, do just that. And they normally do it for just one or two nights, with the occasional week long voyage during their summer holidays. People are just to busy to spend more time boating. So when they do get out, they want to leave the complexity and business of their work week, and just keep things simple and non-complicated.

Looking out of our design office window, we look over one of the largest marinas in the Southern Hemisphere,
Westhaven Marina
. Most of the berths are full and the various designs, styles, and sizes seem endless. What is readily apparent, with a closer look, is how complex and cramped the majority of these vessels are. As much interior has been crammed into the fixed length and beam as is possible. That may work for some, but a lot of the boaters we speak to want simplicity without losing comfort. They want to have good indoor / outdoor flow and most importantly, a simple turn key operation that will allow them to roll up and start cruising as soon as they load her up with food and beverages.

READ MORE