Dibley October 2012 Press Release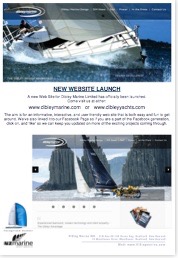 New Website Launch!
A new Website for
Dibley Marine
Limited has officially been launched. Come visit us:

www.dibleymarine.com
It's an
informative, interactive
, and
user friendly web site
that's both
easy and fun
to get around!

We've also linked it to our
Facebook
Page, so if you are a part of the Facebook generation - click on
'like'
so we can keep you updated on more of the exciting projects coming through.