Dibley December 2011 Newsletter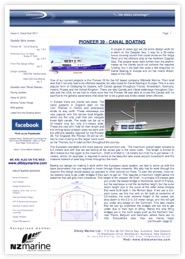 A couple of years ago we did some design work for a client on the Caspian Sea. It was for a 32 meter luxury cruising launch that could cruise on the Volga River and the offshore strip of the Northern Caspian Sea. The project never went further than the preliminaries as the clients could not achieve the required funding, but it did lead into quite a few enquiries on Canal Boating in Europe and on the Inland Waterways of the USA.


One of our current projects is the
Pioneer 39
for the New Zealand based company
Mitchells Marine
. Their brief was that it not only had to be offshore capable, but also sized for Canal Boating in Europe. This is a very popular form of holidaying for boaters, with Canals spread throughout France, Amsterdam, Germany, Ireland, Russia and the United Kingdom. There are also Canals and inland waterways throughout Canada and the USA, so we had to make sure that the Pioneer 39 was able to cruise the Canals with no sacrifice to the general parameters that allow her to be a great sea kindly vessel when offshore.


READ MORE