Dibley January 2010 Newsletter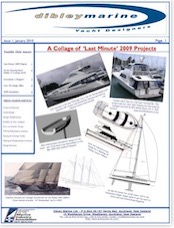 Why would someone commission a
Yacht Designer
? Surely, by now, there are enough boats on the market to cater for everyone's needs! There must be hundreds of millions of vessels out there! The question was put to me a few years back when a potential Client walked into our office, thinking we were also a Brokerage. He'd been visiting Brokerage firms for over a year and he was prepared to keep looking until he found his dream boat, come 'hell or high water'.


The main attribute a Designer needs, besides the obvious ability to design a yacht, is the ability to listen. As the ancient Greek philosopher Epictetus [AD 55 – 135] said


"
We have two ears and one mouth so that we can listen twice as much as we speak
:


Wise words for a Designer to heed. The Client conveys their needs, and the Designer must then put those needs into a workable design. Sometimes the Client isn't sure what their needs are, but with careful listening and using their own experiences and knowledge, the Designer can help them steer their way through the possible' and impossible wants. The result is a Client that is more knowledgeable than he was previously, and a Designer that has a better brief to work with. So the Client not only walks away with a Custom Yacht or re-Design that fits his/her own ideals and needs, but they also walk away more experienced, knowledgeable, and a clearer vision than when they first walked in.

READ MORE