Dibley November 2012 Newsletter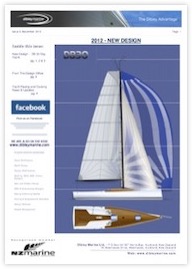 DB30
is a collaboration between yacht designer
Kevin Dibley
, and professional sailor and sailmaker,
Scott Beavis
. Both felt that there was a gap in the market for a yacht that a couple or young family could sail in comfort and style while going fast and having fun. This is about fun sailing, not weekend cruising. A lot of yachts in this size range are
floating campervans
where the designer/builder has filled every available space with accommodation and storage. The result is a slow, and heavy yacht. The
DB30
is a sports car in comparison. With an attractive combination of modern angles, a classic sheer line and tumblehome aft, we believe the aesthetics will be timeless, and her
performance
exhilarating.

A large sail plan allows the yacht to pick up and go, with little effort. The key is to keep it simple. The fully battened square top main is easily controlled from the cockpit. A small jib allows the yacht to easily tack and a larger over-lapper gets the yacht moving in lighter airs. A retracting prod, which is pulled in and out from the cockpit, allows for both a masthead and fractional gennaker.
READ MORE