Dibley August 2017 Newsletter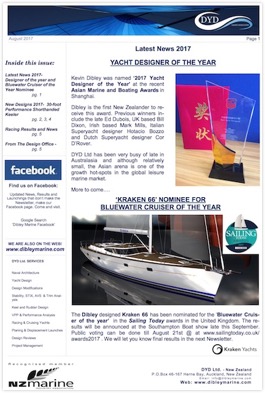 Kevin Dibley, '2017 Yacht Designer of the Year'
Kevin Dibley was named
'2017 Yacht Designer of the Year'
at the recent
Asian Marine and Boating Awards
in Shanghai.

Dibley
is the first New Zealander to receive this award. Previous winners include the late Ed Dubois, UK based Bill Dixon, Irish based Mark Mills, Italian Superyacht designer Hotacio Bozzo and Dutch Superyacht designer Cor D'Rover.

DYD Ltd
has been very busy of late in Australasia and although relatively small, the Asian arena is one of the growth hot-spots in the global leisure marine market.
The
Dibley
designed
Kraken 66
has been nominated for the '
Bluewater Cruiser of the Year'
in the
Sailing Today
awards in the United Kingdom.

The results will be announced at the Southampton Boat show late this September. Public voting can be done till August 21st at
www.sailingtoday.co.uk/awards2017
.

We will let you know final results in the next Newsletter.
READ MORE