Dibley Summer 2009 Newsletter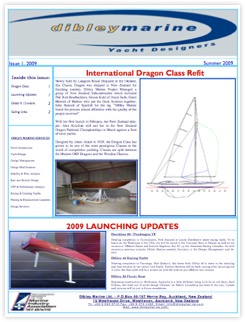 Newly built by Langoon Royal Shipyard in the Ukraine, this Classic Dragon was shipped to New Zealand for finishing touches.
Dibley Marine
Project Managed a group of New Zealand sub-contracters which included Phil Bish Boatbuilders, Simon Kidd of Doyle Sails, Grant Blewett of Harken who put the Deck Systems together, John Bennett of Sparloft for the rig.

"
Dibley Marine
found the process almost effortless with the quality of the people involved
".

With her first launch in February, her New Zealand skipper, Alex Kirichuk will sail her in the New Zealand Dragon National Championships in March against a fleet of local yachts.


Designed by
Johan Anker
in 1929, the Dragon Class has grown to be one of the most prestigious Classes in the world of competitive yachting. Classes are split between the Modern GRP Dragons and the Wooden Classics.


READ MORE