Trade-A-Boat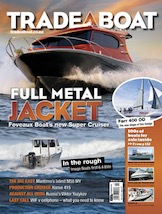 Against All Odds
A legend in his homeland, Russian solo-sailor
Viktor Yazykov
slipped into
New Zealand
largely unnoticed in May, having sailed solo and non-stop from Panama aboard his radical 33-foot yacht
Daughter of the Wind
.

Russia's only yachtsman to compete – and complete – a solo round-the-world yacht race (Around Alone 98/99), Yazykov's sailing achievements are many and include being the first Russian to sail solo around Cape Horn.

He was also a driving force behind the Soviet Union's only entry in the former Whitbread Round the World Yacht Race, helping to build and later race the unique but under-funded and poorly engineered
Fazisi
in the 1989/90 campaign. His memories of Russia's greatest ocean racing campaign still haunt him.

Despite finishing a credible sixth out of 22 yachts in the first leg to Uruguay – and 11th overall – the pressure of maintaining a resource-less campaign was too great for Fazisi project manager and co-skipper Alexei Grishenko who paid the ultimate price – his life. The now sixty-something Yazykov recalls the events leading up to his close friend's death with great clarity.

"Alexei was depressed.
Fazisi
had many problems. When the yacht was measured for (the) race it was ruled unstable... and likely to capsize. The keel had to be replaced... the fuel tank cut out. Everything had to change.

"Alexei felt responsible and quit. He came back to (the) crew four days later and raced (the) first leg to Uruguay but he resigned again when the yacht arrived and was given a ticket back to Russia."

But Grishenko never made it. The pressure that had been heaped upon him and his own sense of failure was too great: he hanged himself from a tree in a local forest. Yazykov says it was a crippling and very depressing blow for the crew.

"Alexei did nothing wrong. He did a great job to create
Fazisi
. The whole thing would not have happened without him. He spent himself to the last drop of his blood to the boat... to the project. And he paid a huge cost with his life. He was my good friend and my teacher in boatbuilding.
"The whole story about Alexei and about the
Fazisi
project is not complete. It is not over yet," says Yazykov.

Little did he know it then, but Yazykov's own involvement in the Whitbread race was also to be short-lived, ending abruptly at the conclusion of leg two in Freemantle, Australia, when he was dismissed from the yacht and returned to Russia. Skip Novak, the American skipper hired to bring a measure of control to the campaign, later wrote in his book
Fazisi
that the reasons for Yazykov's "dispatch to the Russian salt mines" had never been made clear to him or the remaining team.

Yazykov wasn't sent to the salt mines, but instead returned to his home in Sochi to complete a 29-foot timber sloop
Laguna
. He had started building it four years earlier and would later go on to sail to England with his wife to compete in his first solo transatlantic yacht race.
Yazykov's arrival in New Zealand clicks over 35,000 miles sailed in a yacht that he designed and built in Russia, to prove unique design features that he wants to introduce into a small one-design offshore race yacht to be built in New Zealand.

Ultimately, Yazykov wants to establish an offshore sailing and boatbuilding school through which students will build and race their yachts offshore. It's an ambitious plan, but Yazykov has support from unlikely sources, both here and in Russia.

Ambition is something Yazykov has in spades and this is reflected in his remarkable life, set against the backdrop of growing up behind the Iron Curtain in a country with no history and little interest in offshore yacht racing.

Born in the city of Sochi on the Black Sea, Yazykov's early childhood was spent mucking about with his two younger brothers on their father's small wooden fishing dinghy. It wasn't until Yazykov was 12 that he saw his first sail flying from the deck of a Sochi fishing trawler. He says watching that sail fill to the wind was captivating and flicked a light on within that has burned brightly ever since.

"For me it was the beginning of a life-long passion. I knew then that I had to sail; to learn to harness the wind," he says.

But with few yachts in Sochi the young Yazykovs' improvised, fashioning a wooden mast for their dad's dinghy from which they would fly towels as their sails.

"It was slow... yes. We paddled a lot with our hands, but I began to understand sailing."

It was Yazykov's discovery of Joshua's Slocum's self-published 1900 biography
Sailing Alone Around the World
that he says captured his imagination and cemented his decision to one day follow in Slocum's wake.

The drowning of his father and uncle in a fishing accident several days before his 14th birthday brought Yazykov's childhood to a shattering halt. As the eldest son of three, it was, he says, his duty to support his mother and brothers. He took a job at a Sochi shipyard training to build small wooden boats.

Their father's death had a profound impact on the Yazykov brothers and they committed to honour his life by building a yacht and sailing the world. Yazykov's role was to learn boatbuilding, while his youngest brother would study naval architecture. The middle brother would train in business and accounting and seek out sponsorship for the materials and funding required.


Read More