Auckland Today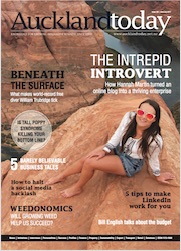 Boating New Zealand - Epic Yachts Tardis 81

The art and craft of boatbuilding
Epic Yachts
'
81 foot Explorer Yacht
is a prime example of the high-level craftsmanship from this master boatbuilding company.

Adapted from a sleek Swedish navy boat, the boat is being transformed into a beautifully appointed expedition-style explorer, with the combination of functionality and modern fit-out.

Conversion commenced in 2014, with design by renowned and recently awarded
2017 Designer of the Year, New Zealand
naval architect Kevin Dibley, and interior designers including
Kit Carlier
.

-
The Tardis
- Epic Yachts' 81 foot Explorer Yacht

Aft of the formal saloon is the mid deck where there is access to the flybridge and dayhead. Further aft again is the lower aft cockpit with boarding platform and all the space required for deep sea fishing and other water activities.

Named
Tardis
, the
Epic Yachts 81
can be sailed by the owner or with a crew if assistance is required, and separate crew accommodation is provided.
The
Tardis
is just the latest example of the stylish builds
Epic Yachts
will be completing for local and overseas clients.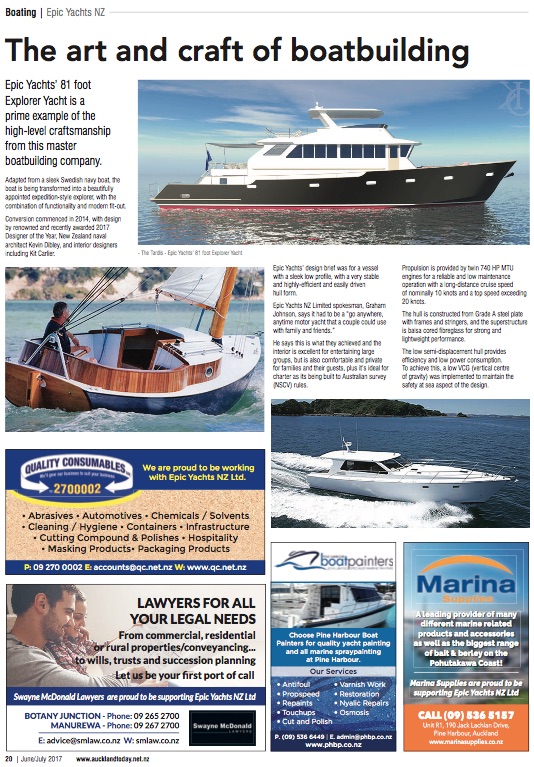 Epic Yachts
' design brief was for a vessel with a sleek low profile, with a very stable and highly-efficient and easily driven hull form.

Epic Yachts NZ Limited
spokesman, Graham Johnson, says it had to be a "go anywhere, anytime motor yacht that a couple could use with family and friends."

He says this is what they achieved and the interior is excellent for entertaining large groups, but is also comfortable and private for families and their guests, plus it's ideal for charter as its being built to Australian survey (NSCV) rules.

Propulsion is provided by twin 740 HP MTU engines for a reliable and low maintenance operation with a long-distance cruise speed of nominally 10 knots and a top speed exceeding 20 knots.

The hull is constructed from Grade A steel plate with frames and stringers, and the superstructure is balsa cored fibreglass for strong and lightweight performance.

The low semi-displacement hull provides efficiency and low power consumption. To achieve this, a low VCG (vertical centre of gravity) was implemented to maintain the safety at sea aspect of the design.

Additionally, all tankage is low in the bilges and keel of the hull.

Graham says another beneficial aspect of the design is that all the major weights, such as the engine room and tankage, are located close to the LCB (longitudinal centre of buoyancy) to reduce pitching in a seaway. This assists in maintaining constant trim between full and lightship loads.

The interior comprises two large guest cabins amidships, a spacious owner's cabin forward, and a separate 'overflow' cabin/office to port. Separating these cabins is a luxurious, spacious TV/entertainment lounge area.

Right aft with a separate external entrance from the aft cockpit, is a comfortable additional cabin offering more privacy. On the main deck is the large formal saloon with panoramic views.

Positioned forward is the large and well-designed galley. The helm station is forward and is open to the aft accommodation, but can be closed off when required, such as when underway at night.

one-off custom sail and motorboats for local and overseas clients.

Graham says the team are very passionate about traditionally-crafted classic boats, and serving the requirements of owners with repairs, maintenance and alterations on classic vessels.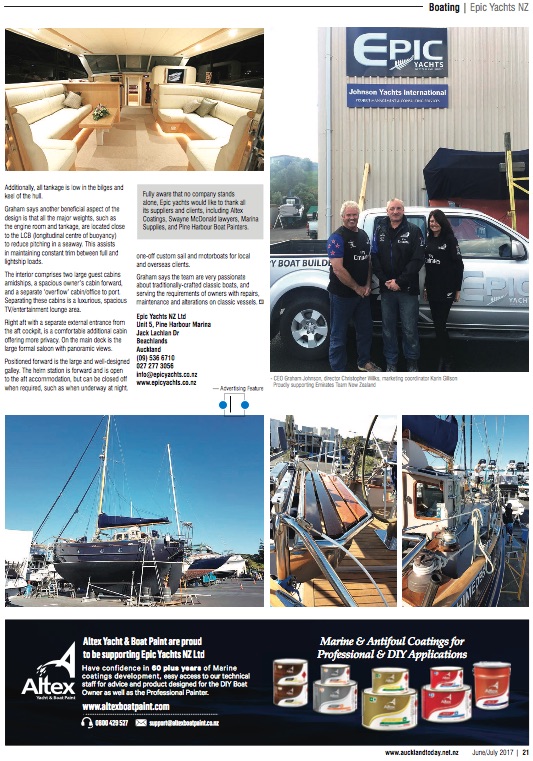 Epic Yachts NZ Ltd
Unit 5, Pine Harbour Marina Jack Lachlan Dr Beachlands
Auckland
(09) 536 6710
027 277 3056

info@epicyachts.co.nz
www.epicyachts.co.nz